Please note the following important changes to our practice due to the current corona pandemic:
All patients who are experiencing any kind of symptoms of the Corona infection MUST CALL TO MAKE AN APPOINTMENT BEFORE COMING TO THE PRACTICE.
For the safety of our employees and other patients, any patients coming to the practice without making first making an appointment WILL NOT BE SEEN AND WILL BE ASKED TO LEAVE.
The practice is currently implementing a stringent policy to distance patients experiencing symptoms of the Corona virus from other general patients in order to prevent any risk of spreading infection.
Please see operational hours below:
• Morning consultation times: ONLY for the purpose of collecting prescriptions, general health checks and vaccinations.
• Afternoon consultation times: ONLY for patients WITH APPOINTMENTS who are experiencing symptoms of the Corona virus. Please note that the practice door will be kept locked and we will only admit the patient with the relevant appointment at that time. Collection of prescriptions during this time is not possible.
Thank you for your understanding!

to the website of our practice in Johanneskirchen!
Our practice is run by Dr. Fabian Girardet and Ms. Katharina Waldmann who are both specialized in internal medicine. Working with us is Dr. Silvia Klampfl who is specialized in general medicine.
According to your personal preference, any of our doctors may be selected for your visit.
The following pages provide some information about our team, office opening hours and our range of services.

Katharina Waldmann

Dr. med. Fabian Girardet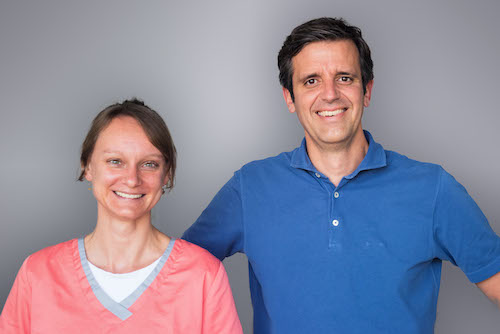 Katharina Waldmann Dr. med. Fabian Girardet